Why BaitCloud Is the Best Fish Attractant for Bass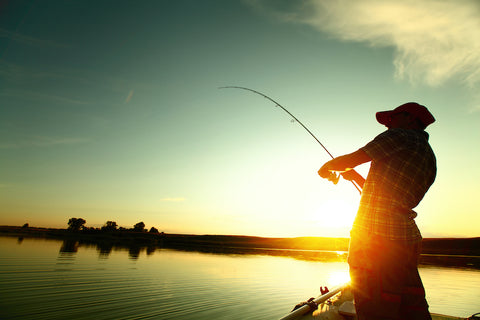 The team behind Baitcloud are fishermen, too, and we know an enjoyable fishing experience when we have one. That's why we've developed the best fish attractant for bass you'll find on the market today. With Baitcloud, fishing is as easy as throwing an earth-friendly, biodegradable fish-attractant ball over the side and casting your line. Our patented ball releases bubbles, scent, and a visible cloud irresistible to bass. Toss in a fish attractant for bass, wait a few minutes, and then drop your line. You'll be amazed at what's waiting for you down below.
Why Bass Find BaitCloud Irresistible
Our BaitCloud fish-attractant balls create a multi-sensory experience for bass and other gamefish. This is why it's the best fish attractant for bass. Columns of bubbles that move the water in an intriguing way give off vibrations and sound while releasing scents bass can't resist. These, combined with the visual cloud created, bring bass to look for forage. Our fish attractants appeal to the natural hunting and feeding behaviors of game fish, making them easier to reel in.
Experience the Science Behind BaitCloud Fish Attractant for Bass
Every fisherman wants a better, more proven method of catching fish. That's why the innovative team at BaitCloud has studied the feeding habits of bass and other gamefish to find out what brings them in. Bass, particularly, are drawn to vibration. Though they have a keen sense of hearing that can scare them away from the sounds of footfalls along the shoreline as well as boat motors, they're quick to approach bubbles and cloudy areas in the water that could mean churning prey. Bass have a well-developed sense of sight, as well. They're able to see activity in the water up to 30 feet away. BaitCloud Fish Attractant appeals to bass on both levels, drawing them in with sight and sound and then adding the delectable scent of crawfish as a bonus.
Advantages of BaitCloud Fish Attractant for Bass
BaitCloud Fish Attractant Balls are economically priced and easy to stow in your tackle box. Lightweight and convenient, they go lightly with you to your favorite fishing spot, whether you're fishing off the dock, in your boat, or along the grassy shoreline. Drop a ball in the water and wait for nearby fish to find it. Once you've tried the science behind our best fish attractant for bass, you'll never fish without it again.
Visit local retailers for the BaitCloud line of fish attractants that includes:
Fish Attractant for Multi-Species

Fish Attractant for Bass

Fish Attractant for Walleye

Fish Attractant for Catfish

Fish Attractant for Carp

Fish Attractant for Pan Fish
At BaitCloud, we use science to create a better fishing experience for anglers everywhere. Try our Fish Attractants today.