BOTH LARGE AND SMALLMOUTH BASS CAN BE CAUGHT THIS TIME OF YEAR! By focusing on the proper areas, depths, and techniques, anglers will find greater success.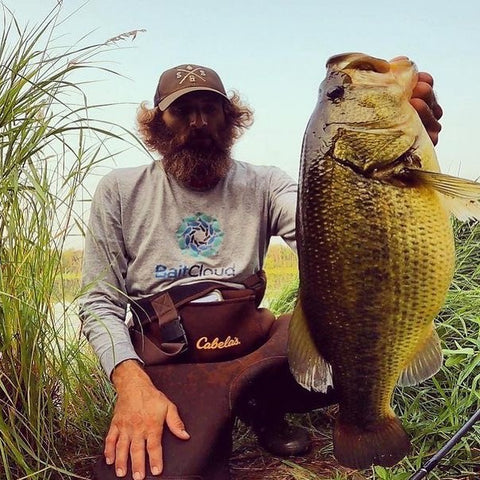 It's the perfect summer morning, and you're sitting in your favourite largemouth bay with a frog in hand. You find an isolated clump of weeds to target and cast your bait the perfect distance past. The rings created from the splash dissipate and you begin to work your frog towards your chosen piece of structure. The weed stalks begin to separate as your frog comes closer. Before you know it, your frog disappears under the surface, your rod loads up, and you set the hook hard and high, feeling the weight of your fish. A quick fight ensues as you bring the fish in quickly and flip it into your boat. Summertime bass fishing—one of my favourite times of the year!
The summer months are often when we fish the most; the weather gets nicer, holidays are booked, kids are out of school, and to be honest—there's nothing else I would rather do. My goal is to help each one of you boat a few extra fish this summer or expand on the water you already know. I'm still amazed when I  find fish in the same area a day later, but hanging out near a new piece of structure. During the summer months this is often the case with warmer water, higher sun, and higher volumes of boat traffic.
WHERE TO FIND THE FISH
Northeastern Ontario is very well known for the amount of lakes within its boundaries. The majority of these lakes are host to very health bass populations. Many lakes are home to smallmouth bass, with the cities of Greater Sudbury and North Bay seeing healthy populations of largemouth bass in a variety of water bodies as well. The majority of the lakes falling south of Highway 17 are your best bet when searching for largemouth bass. Lakes Nipissing (including the West Arm), Nepewassi, and Apsey, Manitoulin Island, and the French River are all excellent fisheries to begin with. The smallmouth waters are nothing short of spectacular fisheries. These include Lake Nipissing, Onaping Lake, Lake Temagami, Lake Temiskaming, and Ramsey Lake, to name a few major ones.
Summer means sunnier days with the sun higher in the sky. This sunlight penetration forces bass to migrate to areas with less light penetration including under docks, trees, lily pads, or out into deeper water. I know when it gets too hot or sunny for me, I either grab my sunglasses or head into the shade to tolerate the conditions. Bass do the same, and if they want "air conditioning" they move deeper to find cooler water.
Areas where you've had success during the spring are great places to start, as bass are still close by and worth expanding your range to find. If you were fishing a main lake point, follow the point out to deeper water and don't be afraid to target fish into the 20- and even 40-foot depths. This is especially true of smallmouth.
In the pristine lakes with clear water, such as Lake Temagami, the fish will swim to a depth where they are comfortable and relate to bait rather than structure. On the other hand, bass can move into extremely shallow waters under thicker vegetation including docks, lily pads, fallen or overhanging trees, and pencil reeds. Shorelines with deep water adjacent or a steep break leading up to a flat are also high percentage areas to target. 
LURES & PRESENTATION
By now, you've probably thought of some spots—the fun part follows after you choose where you're going to fish. Lure and presentation selection are key components to your success on the water.
Fish have seasonal preferences, and bass should never be taken for granted. I've been out when fish are hard to come by, and they all but seem to vanish. Using a good fish attractant, such as BaitCloud Bass Formula, will help attract the fish.  Anticipating that won't be the case for you this summer, here are a few of my favourite summer presentations for each species:
SMALLMOUTH
Tube Jig (Berkley Power Tube)
Drop Shot (Gulp! Minnow or Fry)
Jerk Bait
Top Water
Wacky Rig Stick Bait
LARGEMOUTH
Frog
Skirted Jig
Texas Rigged Soft Plastic 
Swimbait
Crankbait
RAIN OR SHINE, WE'RE GOING FISHIN'
When fishing for bass, weather conditions come into play including wind, sun, cloud, water clarity, and frontal conditions. Personally, I love a cloudy day with a light breeze as this allows fish to roam and cruise up to shallower depths, feeding on anything in their paths. These conditions are a great time to fish top water baits over vegetation, rocky points, or a big sand flat. This could very well be one of the most exciting ways to catch bass—you get to see it all.
Other techniques include subtly moving baits like swimbaits, Texas rigged worms, swim jigs, and wacky rigs. You won't need a lot of vibration to get them to bite as they will be out ready to chew, but if the subtle baits aren't working, don't be scared to call them in with crankbaits and jerkbaits.
If the sun gets high on a bluebird day, the smallmouth bass will push down to deeper water. This is when I'll toss a tube out and let it sink to the bottom, slowly dragging it back to the boat. Tip: Try using a BaitCloud InSerts in your tube for added scent and life-like action! Usually once I get a bite and the tube slows down, I will use the drop shot technique to put more fish in the boat. But remember, smallmouth can still be in shallow water, and a wacky rigged bait placed near a dock, tree, or vegetation will entice anything nearby to come out and eat. This technique just catches fish, period.
Now on the other hand, largemouth bass are an absolute blast with a high sun. They become easier to pattern, and relate to vegetation with overhanging cover like lily pads, eel grass, arrowheads, and the like. I'll usually throw a top water frog, skirted jig, or Texas rigged punch rig. Other than the frog, these baits are up close and personal, and you have to put your bait in the fish's face. If you drop it near them, a bite will come fairly quick and you'd better be ready to set the hook and get your fish out of the heavy cover.
On the windy days where boat control can be difficult, water splashes into your boat, and you consider heading home—take the right step and put that boat in the water! Head over to a wind blown point, shoreline, or shoal and set yourself up facing into the wind. The wind acts like a current and delivers bait to the fish who are waiting for an easy meal. You want to bring your bait right into their faces.
The action of a darting jerkbait replicates an injured baitfish being blown up onto the shore, and is very difficult for a bass to avoid eating. Smaller finesse-style swimbaits and tubes are a great alternative to the reaction baits when placed on or brought past these key areas. They'll often help you to pick up a few more fish once the reaction bite slows down.
AT THE END OF THE DAY
I hope that some of these techniques and locations become useful to you this summer. The fishing has been great up until now, and we can only expect the weather to get nicer as summer is truly here. Bass can move from day to day, so don't be afraid to move around, check different depths, and try different styles and colours of baits until you crack the code.
Once you do find a pattern that works, try it around the body of water you're fishing and it will likely help you yield more fish to bring home and brag about to your family and friends—one of my favourite parts! Let's see you BRING THE FISH TO YOU!