Best Bait for Ice Fishing Lake Trout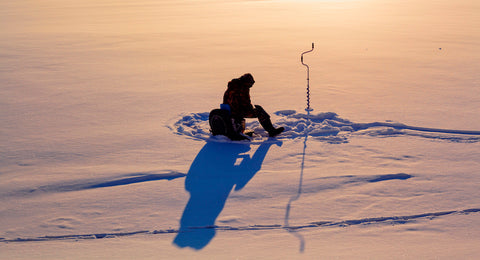 The cold winter months mean it's finally time to head out for your favorite sport of ice fishing. You can't wait to reel in the elusive, large and tasty lake trout. You've assembled the perfect gear for your ice hut, but what you should also take a moment to ask is, "What is the best bait for ice fishing lake trout?"
According to In-Fisherman, lake trout love the cold winter waters. In fact, they come up closer to the surface where the temps are cooler than the depths. They're known to keep biting at temperatures of 33°F, which makes them an excellent challenge for your fishing skills.
Lake trout can rise up to within six feet of the ice, and will swim parallel to it into the shallows. In a more rocky lake, they might hang around softer areas of the bottom. On a clear winter day, you'll want to get out there early, but the biting can extend later on the more common dark or snowy days. They are known to be easily spooked, so you'll want to keep on-ice movement to a minimum, and use the shelter to keep light from streaming into the hole on a sunny day.
BaitCloud Ranks High as the Best Bait for Ice Fishing Lake Trout
Use your own knowledge, study lake maps, or talk to the locals to figure out where the lake trout might be congregating in your area. Once you're in the right place, you're ready to start drawing them in. There is intense debate in the fishing world about the best lures to get them onto your hook, but how do you get them into the area of your hook in the first place?
The best way to attract their attention is through movement and scent, and that is where the invention of the BaitCloud comes in. Simply toss the BaitCloud in your ice hole, and wait a few minutes for it to start performing its magic. It's sort of like a bath bomb, only better. The ingredients combine to produce bubbles, a scent and visual cloud that signal the lake trout that their dinner is nearby.
Once you've got their interest with the BaitCloud, they might bump the line – if it's something they like, they'll be back for a bite, and that's when the fun begins! Be ready to get busy – when there's one, there will surely be more. Depending on water temperature and current conditions, the BaitCloud will keep bringing the lake trout to you for about an hour or so.
If it's ice fishing time, make sure you have the
best bait for ice fishing lake trout
in your gear. BaitCloud has been formulated into
seven different products
made specifically to target individual fish species, or products that provide a more universal application. Visit the website to order the limited edition
Holiday Gift Box
, or to find the perfect solution that will bring the fish to you.